Peter George Elson 1947-1998
Peter was always quiet and gentle and was drawing since he could hold a pencil: invariably aeroplanes!
From the time he could read, he was an avid fan of 'Eagle' magazine, especially the pictures and plans of air and space craft which he would copy or use as inspiration for his own imagination. At school, art was always the subject in which he excelled. He passed 'O' level GCE with an A grade at 15, a year before his normal time, and 'A' level, also with an A grade, the following year at 16, two years early.
He then went to Ealing Art College, where he met his lifelong friend Carol. This is her tribute to Peter:-
I first met Peter at Ealing Art College back in the 60's. Peter did a year in Fashion Design and chose to change to Graphics. I had finished a year's Foundation and did the same. It was an exciting place to be. The times they were a changing and we wanted to change with them.
Peter was clearly a very talented artist, bursting with ideas. He could draw anything. Unlike most of us he could just produce work without seeming to have to think about it. Quickly we became good friends.
After leaving college, Peter moved to Colchester but we still kept in touch and in 1977 Peter entered and won an SF artwork competition. Commissions began to come in. Being based in Colchester, he needed someone on the ground in London who could look after his clients and find new ones.  His first agent proved unsuccessful. Then he approached me. "You can sell things, Carol," he said. "And better still, I trust you."
So I became an agent, and the Sarah Brown Agency was born. The name was a combination of Sarah (a name Peter liked) and Brown (which I thought sounded reliable). In later years we acquired more and more SF and Fantasy artists, but Peter was always the first and for me, the best.
Peter died much too soon but at least he was sitting in a bar with a drink in front of him. There are worse ways to go. At his funeral the vicar said he was probably "getting in the rounds" in heaven. I like to think he's painting there too, only now without the deadlines that could sometimes make the work he loved a chore as well.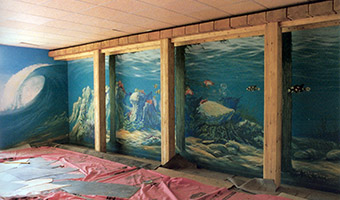 The kind of cover art that Peter and many of his contemporaries produced will probably not be seen again. It was a golden age of SF and Fantasy illustration. You can still find the covers, sometimes in reprints, mostly as second hand copies at boot sales. They shine out for their magical ability to take you into a world you can scarcely imagine. It's what great art always used to do, and Peter was a great artist.
Carol Butfoy
Sarah Brown Agency
Peter was kind and loving, and one of the gentlest people I have known. He was intelligent and widely read and a regular member of his local pub's quiz and cricket teams, though he would say that was mainly for the beer! He died in March 1998 in Skegness while he and some colleagues were working on a mural at Butlins, relaxing in the hotel bar after work.